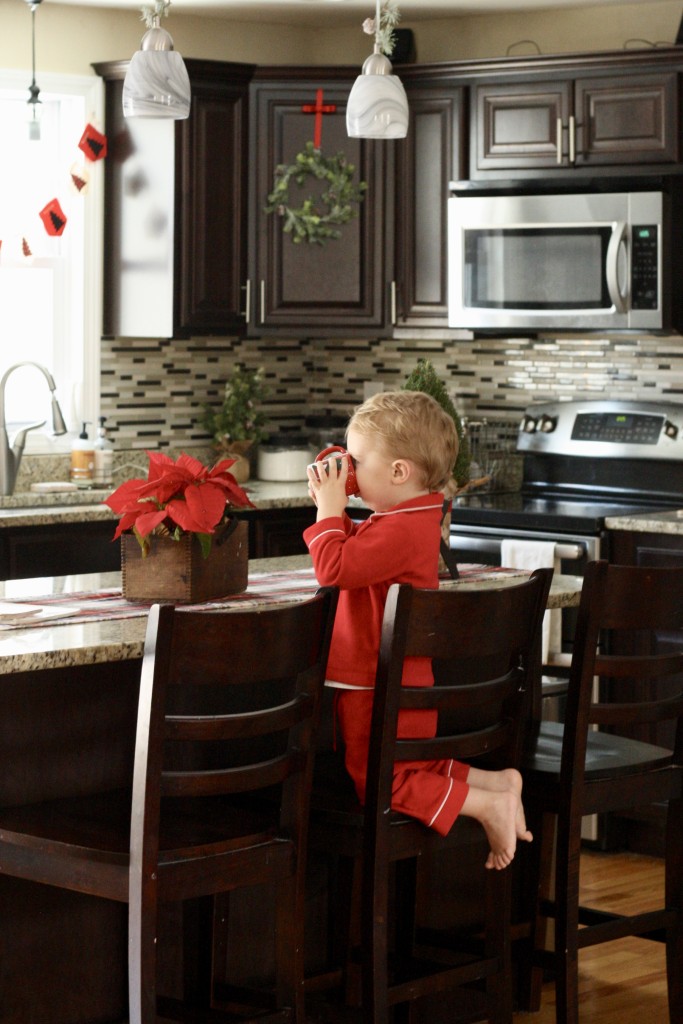 Can it really be December 20th??? I am just about ready as far as the Christmas to do list goes, but as far as the Christmas actually being here? I'm not ready! I always tell my husband that I love Christmas so much…it's not even necessarily Christmas day but instead the entire season! I'm not ready for the festivities to end.
I have been completely silent on the blog for most of the month of December. Instead I have been thoroughly enjoying the little guys…can I keep this age forever? Christmas for a 1st grader and a two year old is SO MAGICAL! We have fit so much into these 20 days of December: cookie baking, Saturday night Hallmark movies with Carter, driving around looking at lights, sitting on Santa's lap, writing Santa letters at Macys, church & school events and concerts, piano recitals, Christmas movies galore, decorating. Speaking of decorating, I actually did something new this year! I decorated my kitchen for Christmas!
I've always swooned over those Christmas kitchens on Pinterest. So when Michaels had these Christmas wreaths on sale for 60% off the normal $12 price tag then an additional 25% off of that, I had no choice but to purchase them! And don't worry, no cabinets were harmed in the hanging of these wreaths. I used my very favorite trusty Command Hooks for easy removal in January (or February…if I take off the red ribbons then they can become winter wreaths…right?)
I've also managed to keep these poinsettias alive since Black Friday! Has it really been almost 4 weeks since Thanksgiving week? Slow down time! Every year my mom, dad, Carter and I make one very important Black Friday stop…Home Depot! Real exciting, right? But we always get such amazing deals like fresh green garlands for $7, beautiful fresh wreaths for $7 and my favorite deal, my poinsettias for $0.99!
So keep scrolling to see how full of Christmas cheer my kitchen is! Especially with a little blue eyed two year old in his red Christmas pajamas drinking his hot cocoa! Cue all the heart eye emojis! (I'm also including a shopable guide after the pictures for inspiration for your own Christmas kitchen!)