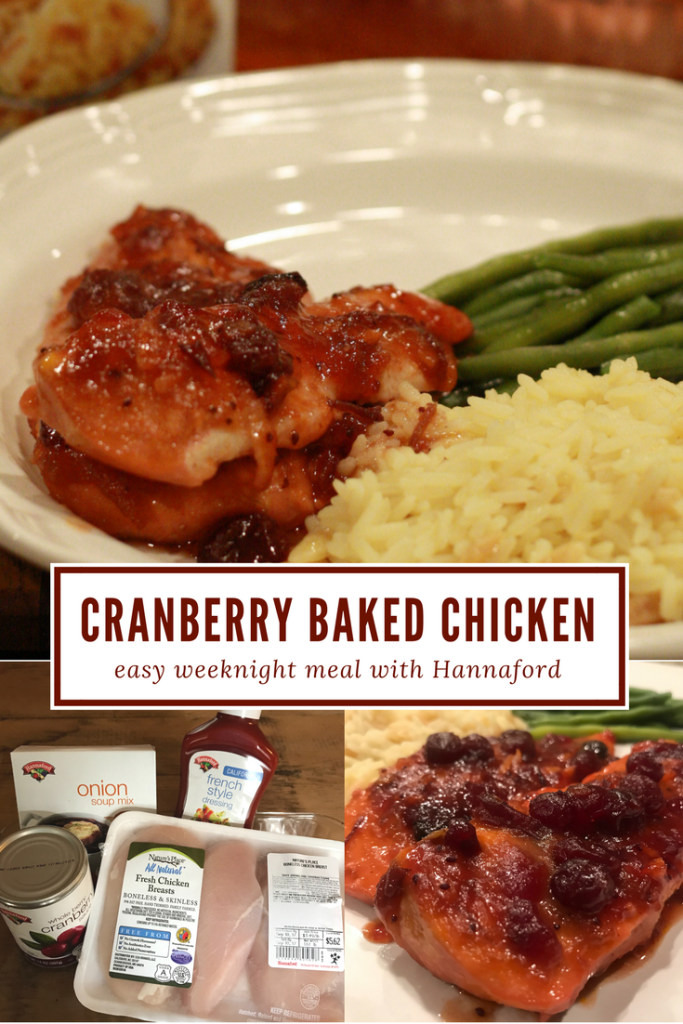 Can you believe it is already back to school?! We are back into the full grind here at our house. Fall definitely brings on a whole new level of busy…between sports practice, music lessons, school carpool lane, homework…yikes! Who has time to think about dinner? That is why I'm so excited to be partnering with Hannaford to bring you all this super easy, extremely affordable weeknight meal recipe. With only 4 simple ingredients (5 if you include a box of Hannaford Rice Pilaf for a side), this juicy meal comes together in just under an hour. Or, throw it in the slow cooker and come home to dinner made and a house smelling like you've been cooking all day.
Being a mom of little ones I am always looking for quick recipes that my picky eaters will actually eat. The sweetness of the French Dressing mixed with the tangy fruitiness of the cranberries yields the perfect dish for two growing boys. I don't know about you but we eat a lot of chicken in this house (most weeks I find myself making chicken 2 times!) so here is another great recipe you can add to your chicken recipe collection. Also, make sure you read to the end for proof that my 2 year old devours this meal!
When serving this as a weeknight meal I'll usually pair with a couple sides like rice pilaf and green beans for a well-rounded dinner. But, this Cranberry Baked Chicken, which is usually just a weeknight staple for us, has also made a dinner party appearance at my house! And a bunch asked for the recipe…so I'm definitely excited to be sharing it with you. You can simply double or triple the recipe depending on how many you need to feed (makes it easy for big families or when your kid's friends suddenly stay for dinner!)

For this recipe I'm using all Hannaford Brand ingredients. Their ingredients are super affordable yet the quality is comparable to the name brand items. I noticed while shopping for the ingredients that Hannaford makes it extremely easy to find their brand items on the shelf and every ingredient I needed was highlighted by a savings tag!

Hannaford even has a line of all natural meats. I try to be careful with what I feed my little boys but it can be so expensive to purchase all natural meats and poultry. That's why I have actually always purchased the Hannaford Brand Nature's Place (while not included in this recipe, you have got to try the Nature's Place deli items…so good!)
The recipe below used 1 package of chicken breast (3 pieces, about 1 1/2 pounds). This fed my family of 4 with some leftovers as I have small children. For 4 servings, including the rice pilaf the total cost was $2.60 per serving!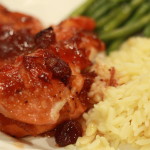 Cranberry Baked Chicken
Ingredients
8

oz

bottle Hannaford Catalina or French Dressing

1

large can

Hannaford Whole Berry Cranberry Sauce

1/2

envelope

Hannaford Dry Onion Soup Mix

1 1/2 - 2

pounds

Hannaford Nature's Place Chicken Breast
Instructions
For the oven:
Half the chicken breast and place in a greased 9x13 glass baking dish. By halving the chicken you are essentially making it thinner so that it bakes quicker. Because of the amount of sauce the chicken bakes in your chicken won't dry out!

In a bowl combine the dressing, cranberry sauce and dry onion soup mix. Stir well then pour over chicken, cover dish with foil and bake for 45 minutes - 1 hour, until chicken reads 165 on an instant thermometer.

Serve with Hannaford Rice Pilaf!
For the slow cooker:
The night before (or the next morning if you aren't a night owl!) place your whole chicken breast in the bottom of your slow cooker insert.

In a bowl combine the dressing, cranberry sauce and dry onion soup mix. Stir and pour over chicken breast. Cover the top of your insert with plastic wrap and refrigerate until morning.

Cook on low for 6-8 hours. Dinner is ready! Serve with Hannaford Rice Pilaf!

With Love, Jennifer
This post was brought to you by Hannaford.