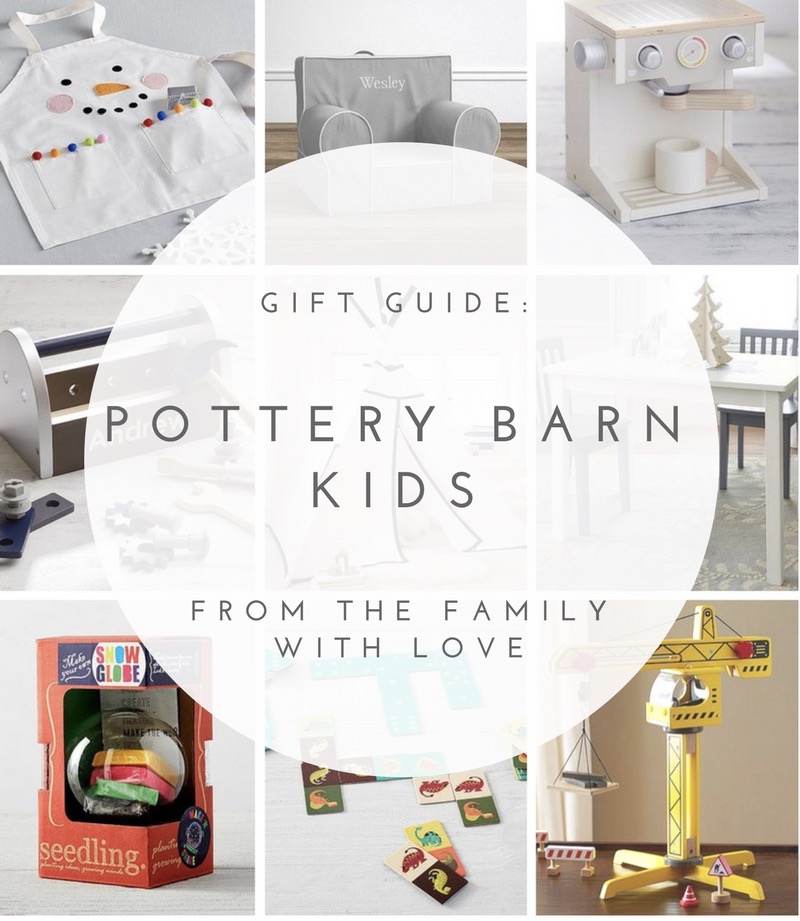 Can you believe the holidays are in full force with Thanksgiving exactly a week from today? Now for the big question, have you even started your Christmas shopping? I am seriously doing 90% of my shopping online (my poor UPS gal!) But when you have two little ones it just makes life that much easier.
First up in my Holiday 2017 Gift Guide series are my picks from one of my favorite online retailers…Pottery Barn Kids. Before you buy from PBK make sure you check for a coupon code because they are almost always offering 20% off an item and/or free shipping.
And as always, you can shop my picks by clicking directly on each item in the image below or keep scrolling for details on each of my picks!
1. Snowman Apron – We have quite a few aprons from Pottery Barn Kids. The quality is superb and I love the snowman version because my kids can use it past Christmas and into the winter!
2. Anywhere Chair – While we have 2 boys I only have one Anywhere Chair. I would have loved one for each boy but our first born just isn't the sitting type. When he was little he would only watch a movie if he could be playing and acting it out at the same time. But when Hunter came along (our calm one), he would try to find his own little place to sit down to have a snack or watch a movie. I have not once regretted buying this for him (monogrammed too!)
3. Wooden Espresso Maker – We have the k-cup version of this…but umm since mama drinks her espresso every morning I think this its going to be a necessity in our play kitchen!
4. Wooden Toolbox – I got this for Hunter last Christmas and he LOVES it! My only suggestion is to not spend the money having it monogrammed. I monogram everything (no seriously, even my kitchen table is monogrammed) but with the color they use for the paint it doesn't show up on the tool box.
5. Teepee – We have a previous years teepee and to this day my boys still play with it! Snack time, movie on iPad time, reading time…their own little hide out.
6. Kids Table & Chairs – I love the size of this one. Both my 6 year old and 2 year old can enjoy it. We keep it in my office as their craft desk but it is easy enough to move downstairs when we need a kid's table for a party!
7. Snow Globe Kit – I just placed my order for this! Eat your heart out Carter (why do I have a feeling our snow globe is going to feature a robot and dinosaur.)
8. Dinosaur Dominios – Speaking of dinosaurs. This, how much fun! Stocking stuffer ✔
9. Wooden Crane – While we don't own this, every single time we have gone to a Pottery Barn Kids store my boys are in love! I have a feeling Hunter would legit die over this as he is my child who has to bring our Bruder Crane with us everywhere (yes, a full sized Bruder truck comes on multiple car trips with us).
SHOP HERE:
With Love & Happy Shopping, Jennifer
This post contains affiliated links.