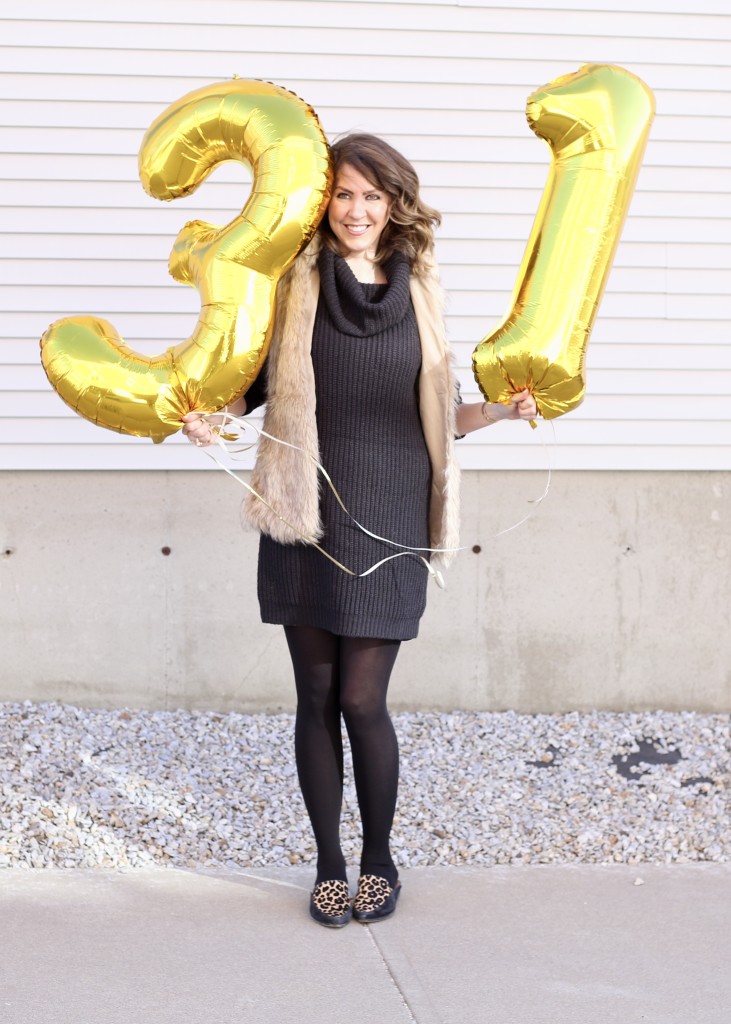 The month of January held a very special day in our house…my birthday! So to celebrate I thought it would be fun to share 31 things I've learned in 31 years. Keep reading to #31 for a special giveaway!
1. Don't worry what others think, they rarely do anyways. I heard this quote once (can't remember where) and it has stuck ever since!
2. Eat ice cream for dinner weekly in the summer — in the northeast summertime goes by too quickly!
3. Making memories is what it is all about. Traditions traditions traditions. Whether big or small, splurging or free, make the time to build those treasured memories.
4. Have pajama days. We have a rule in our family…if it is a snow day then it is most likely a pajama day for the boys and I!
5. Coffee is life. I'm a mom.
6. I have one favorite holiday…whichever one is next!
7. I hate making my bed. Like with a passion. But did you know its actually really healthy to let your bed air out in the morning? I read some article that said you should make it a little later after jumping out of bed. I just usually forget when it comes to "later".
8. It's ok to fake being organized when friends pop in. Yes, I have hidden dirty dishes in the oven when I run out of time before someone comes over.
9. Never, and I mean never let the sun go down in anger. We adapted this immediately in our marriage and almost 10 years later there has never been a night where we have gone to bed angry. Now granted during our early married years this meant staying up till 2, 3 even 4AM to hash things out. This also works in all relationships, not just marriage.
10. I personally have every good intention on using January 1st to start and keep new goals (I do goals instead of resolutions). But by my birthday I have probably put off each new goal start date "until tomorrow".
11. You can make anyone like coffee. Just ask my husband (it was actually a conversation before marriage. He wasn't sure he wanted to marry someone who drank coffee as he couldn't even stand the smell! He is now eating his words.)
12. Friends come and go and sadly sometimes family too. That's why the relationships I do have are so precious and I focus my energy on nurturing those.
13. Ask the person on the other side of the drive thru speaker how their day is going. I worked at Dunkin Donuts in high school and you'd be surprised as to how many people don't care and never ask!
14. Say yes to things that bring you joy (and a one word answer of "no" to things that don't).
15. When you see an elderly man wearing his Veterans hat, thank him for his service. I've almost brought a few grown men to tears by doing this!
16. Buy satin pajamas. It seriously makes you feel like a fancy adult.
17. Use anti wrinkle cream every day even before you have wrinkles. My mom has been doing this since her young 20s and she has like one tiny smile line on her face (and she is in her mid 50s!)
18. Mail that card, make that phone call. I'm getting to that age where the generation who offered such wisdom to me when I was growing up is now starting to pass on. You will never regret spending those 10 minutes to send them a simple note thanking them for making an impact on your life.
19. Learn some bad dad jokes. The other night at dinner I surprised my 3 boys by cracking some crazy bad dad jokes! We spent most of the night roaring over how bad they were!
20. Delegate. It's ok if you can't do it all! I'm a stay at home mom running a blog/business. I should have plenty of time to clean my house. But I get so stressed out! Birthday gift from hubby = hiring a housekeeper. Hiring a housekeeper = way less stress!
21. No good deed goes unpunished. My dad says this and sadly I'm starting to realize it can be true!
22. Give people grace. You never know what they are going through. Did the cashier greet you with a grumpy face? Did the barista mess up your order for the 3rd time in a row? Deep breath, offer a smile, and show grace.
23. Just do it. I'm a researcher (also a fancy word for procrastinator) and I often let fear slow me down. But there is something to be said about just committing to it, doing it and learning as you go.
24. Ask questions. People love talking about themselves!
25. Control your emotions (this one is from my daddy!) Even if you are having a bad day. No need to make other people's day miserable just because you feel rotten (or as my daddy would say, ugly) inside!
26. If you love and serve Jesus don't give up on that commitment! If you don't, then take a minute to listen to the next person you come in contact with who does. If they really love HIM you will see the light and love shining through them!
27. Celebrate the small stuff. Even if it's just buying a cupcake as the celebration. Celebrate!
28. Smile. Always smile. See #17 to avoid smile lines.
29. Love others. Just love on them. Even if you don't agree with or love their choices and lifestyle you can still love them.
30. Go outside barefoot whenever the weather allows. By the end of the summer my feet are stained from wearing no shoes! But the feeling of toes in the grass and carefree days is so good for the soul!
31. Enter giveaways! Someone has to win and it could be you! Looking for a giveaway to enter? How about the one below for a $500 Nordstrom gift card!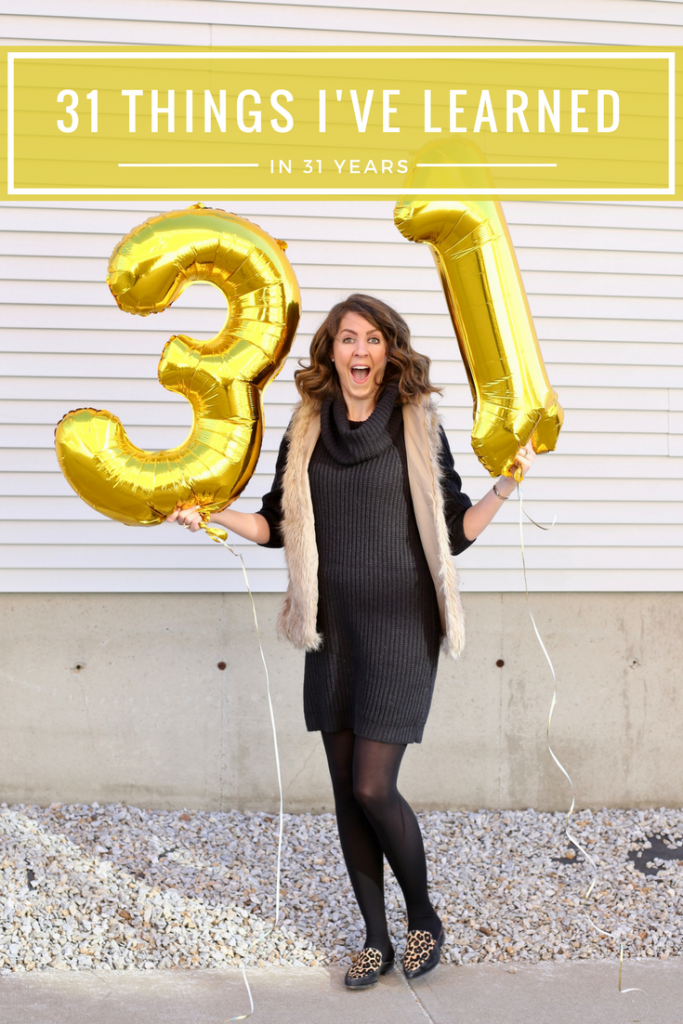 | Hearts of Gold Blog | Dressed to Kill (DTK Austin) | Two Peas in a Prada |
| The Sugared Lemon | Pish to Posh | Coffee Beans and Bobby Pins | Fashion And Frills |
| Jasmine Elias | Posh in Progress | From the Family With Love | Styled Blonde | So Heather |
| Outfits & Outings | Busbee Style | Kayleigh's Kloset | Lou What Wear | Bay Area Fashionista |
| Hey There, Chelsie | The Chambray Bunny | 30A Mama | The Style Lynn Life | Zoë With Love |
| The Polished Posy | Pretty Little Shoppers | The Sensible Shopaholic | Eat Pray Wear Love |
| A Gallon of Glitter | To Be Bright | Wishes & Reality | Style on Edge |
This giveaway is brought to you by the talented bloggers you see above! Enter by performing the actions below in the Rafflecopter for a chance to win a $500 Nordstrom Gift Card. This is definitely one giveaway you won't want to miss!
Make sure to do the actions in the Rafflecopter before marking they are done! Marking done doesn't automatically perform the action.
(We do verify entries!)
Giveaway runs from Jan 30, 2018 to Feb 13, 2018 (concludes at 12:00 AM on the last day). Open to the US, UK and CAN. By entering you are agreeing that you are performing the actions in the Rafflecopter that you have marked as done and you understand you may be subscribed to hosts' email lists. By entering you are agreeing that you agree to these newsletter subscriptions and all other terms & conditions of the giveaway. More giveaway details can be read in the terms & conditions in the Rafflecopter. Winner will be announced within 10 days of the conclusion of the giveaway and entries will be verified by the hosts. Thanks for participating, I can't wait for you to go check out these wonderful bloggers!
With Love & Happy Shopping, Jennifer
This post contains affiliated links.