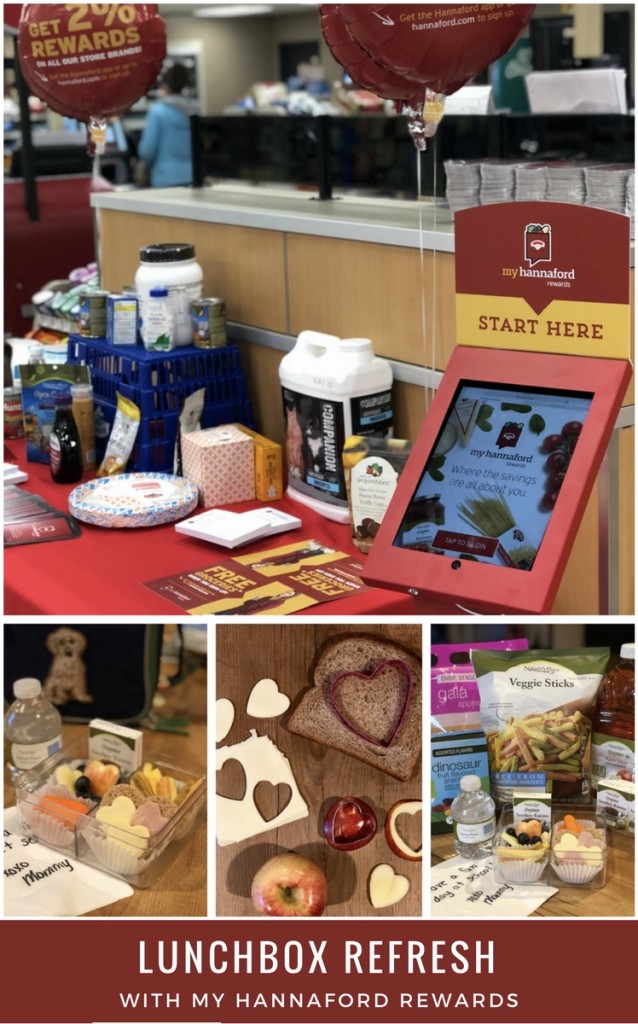 Can you believe we are already halfway through the school year? The holiday season is officially behind us and we are now in that midwinter lull. You know…the daily chore of packing the lunch box with the same old same old stuff , only to find half of what you packed your kiddos returned at the end of the day? Well keep reading for some fun and simple tips for a lunchbox refresh that also includes ways to save money every time you shop at your local Hannaford!
First of all let's start with how you can now save money and earn a 2% reward with the new My Hannaford Rewards program! You all already know how I enjoy shopping at my local Hannaford, so I was so excited to hear about My Hannaford Rewards which not only offers amazing personalized coupons but also the ability to earn a 2% reward on Hannaford store brand items I'm already buying like fresh meat, seafood, deli items and packaged foods from across the store.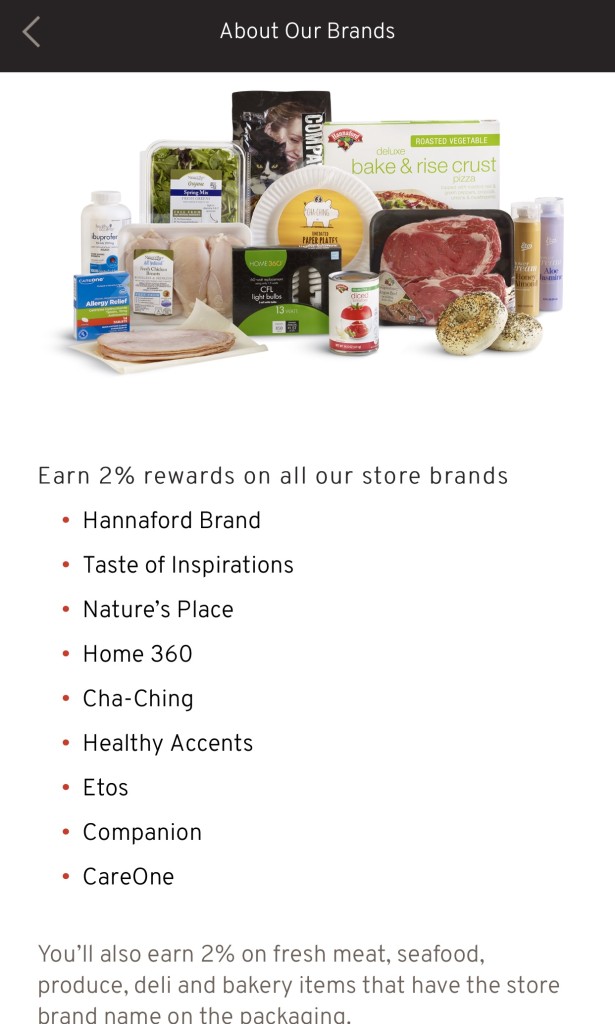 I visited my local Hannaford to find out exactly how I could sign up for the new My Hannaford Rewards program. They had information about the program everywhere! And everyone I talked to in store was super knowledgeable about it! To start there are 3 easy ways you can sign up: download the free Hannaford app, go to hannaford.com and create an account or use the in store sign up station. I opted for downloading the Hannaford app. Sign up was 1-2-3-4 and literally took 2 minutes!
Upon signing up I was immediately greeted with exclusive coupons for free groceries! The app was extremely easy to use and includes additional coupons, a store locator, My Hannaford Rewards barcodes for checkout, and a Reward Summary. I immediately clipped some of the freebies and also made sure my grocery list included plenty of Hannaford brand items so I could earn that 2% reward.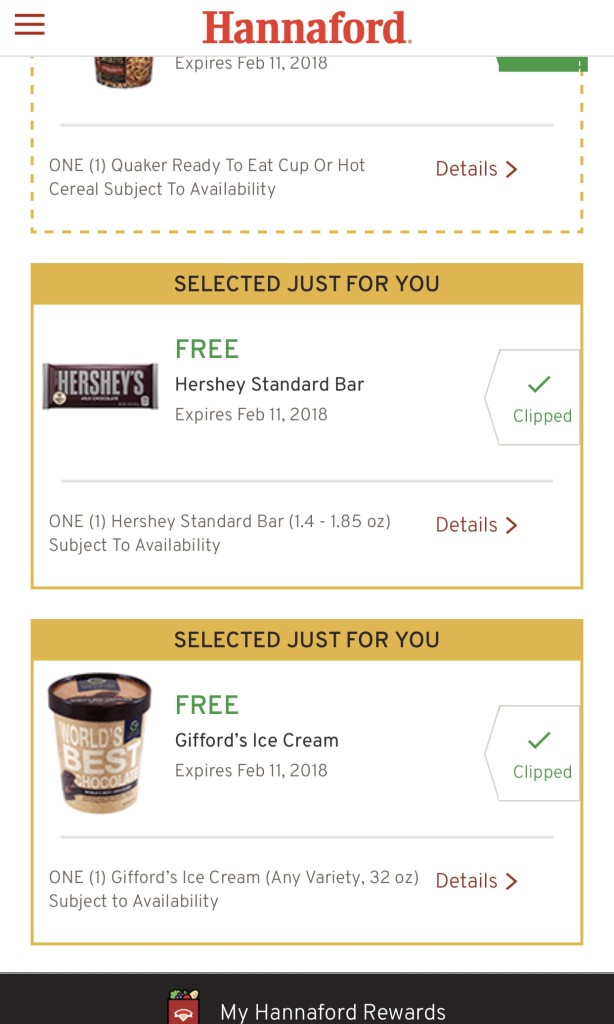 Since I was focused on a lunchbox refresh during my shopping trip I wanted to pick up items that were kid friendly, healthy, colorful, and included a mix of prepackaged treats and bite sized snacks. Almost everything I needed was available in a Hannaford brand so I knew I would be earning the 2% reward. Some ideas of what was on my Lunchbox Refresh List are found below.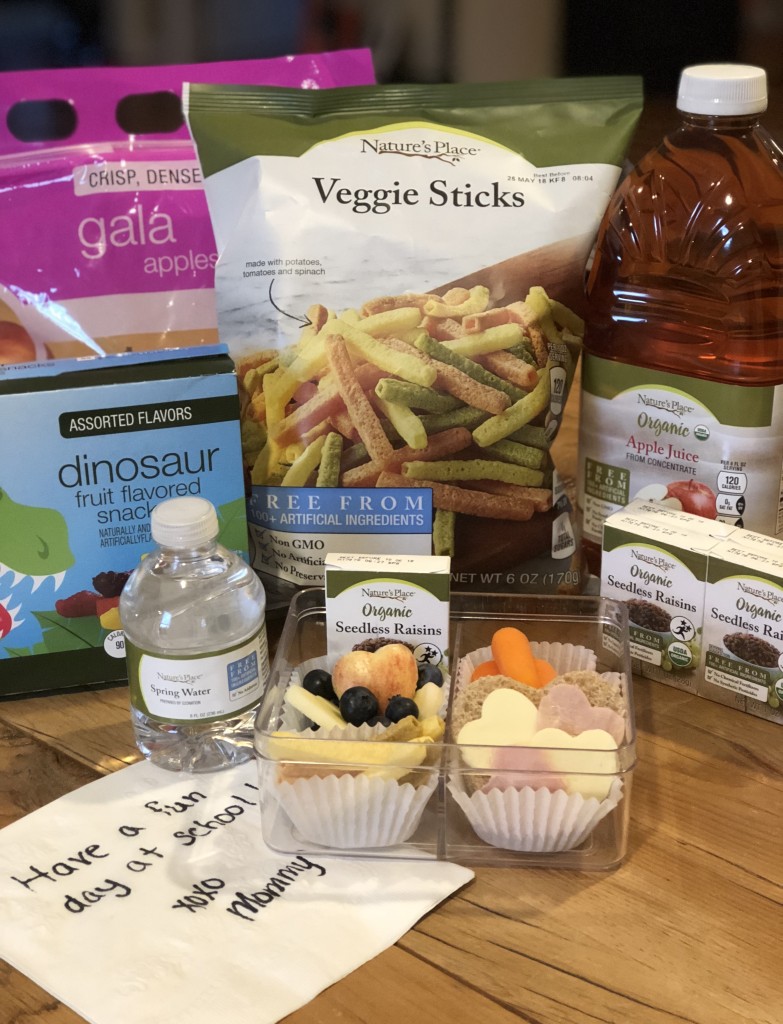 apples
blueberries
baby carrots
deli meat
sliced cheese
sliced bread
veggie sticks
mini water bottles
boxed raisins
fruit snacks (have to add some type of treat!)
apple juice
napkins
I also added some white cupcake liners and a heart shaped cookie cutter to my list. No crazy lunch box crafting going on here…just a few little tricks for some fun surprises in tomorrow's lunch!
Checking out with My Hannaford Rewards was a breeze! I had already signed up prior to checkout and was given the option of scanning my Hannaford App barcode or entering my phone number. And as always my cashier was friendly and knowledgeable about the entire program! When I got home I checked my Hannaford App and realized it had already updated; it will be fun watching those Earned Rewards grow over the quarter!
Now for adding some fun to our daily packed school lunch. We use a simple clear lunch box insert with a single divider. I usually put snacks in clear baggies but for something fun I decided to use cupcake liners to portion out the finger snacks. One section got veggie straws, another baby carrots, the third blueberries and cut apples and the last a snack sized stackable sandwich. Here are some fun ways I refreshed our lunchbox.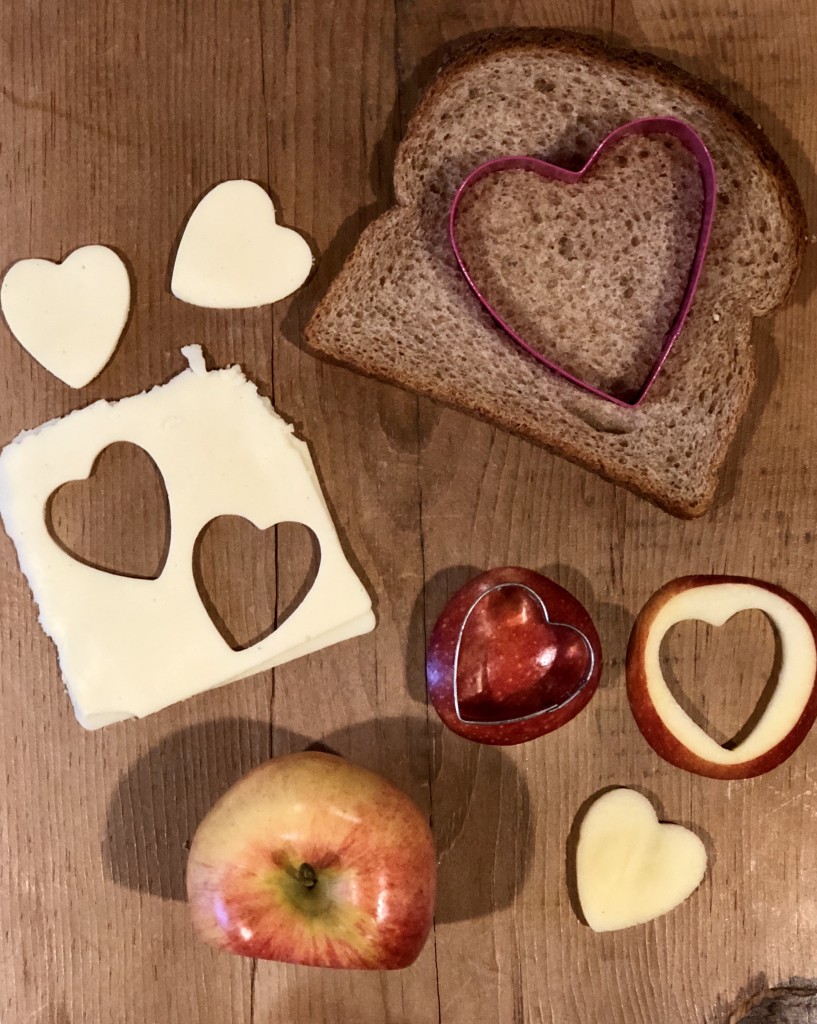 Since I already pack sliced apples (we have a little one who has lost some front teeth!) I decided to use the heart cookie cutter to create heart shaped slices.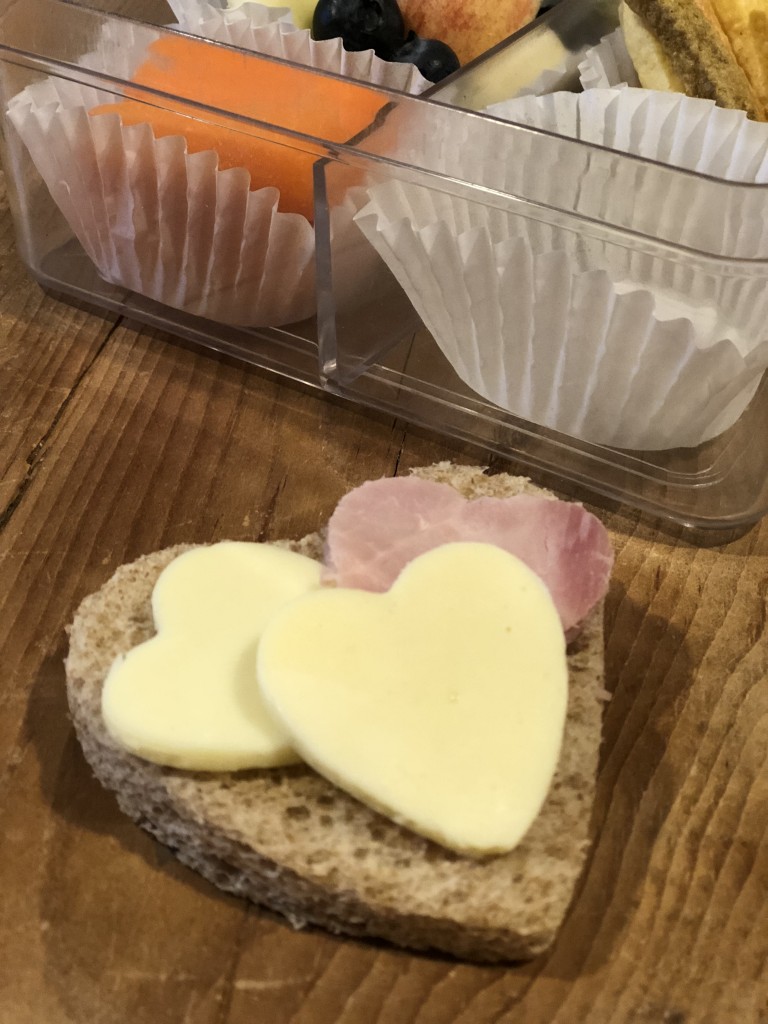 Using a larger version of the heart cookie cutter I cut out hearts from the slices of bread (no crusts! yay!). I then stacked heart shaped cheese and ham slices. During lunch it can be enjoyed individually or stacked between the bread for a mini sandwich. Since I'm already cutting cheese and crusts off, using a cookie cutter for fun shapes wasn't really an extra step.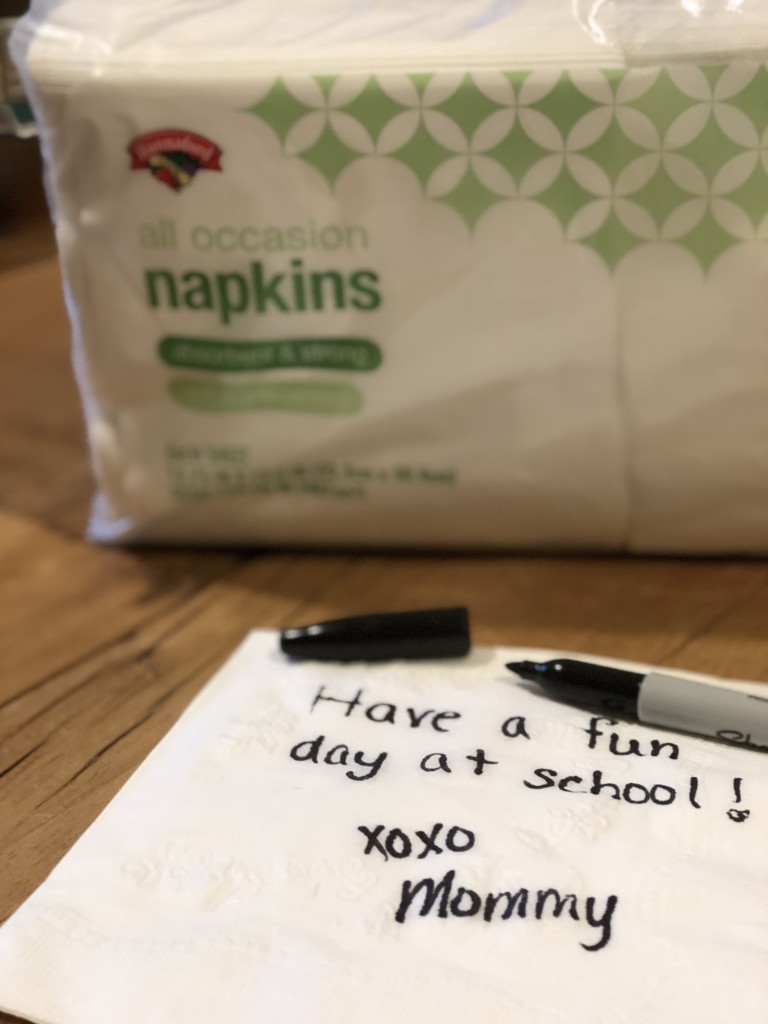 I turned a simple white napkin into a special message from mom with a permanent marker…don't use washable markers…made that mistake once. I keep a permanent marker with my lunch supplies so I can scribble a quick love note on napkins almost every day.

I filled their thermos with apple juice for lunch time but also tucked in a small little water bottle just in case they get extra thirsty that day. The mini size is something fun instead of the typical size mom and dad use.

I included a mix of prepackaged snacks (like the dinosaur fruit snacks or boxed raisins) as well as bite sized snacks arranged in cupcake liners instead of the traditional plastic bags.

Choose colors from the rainbow or stick with a theme. I have red apples, blue blueberries, orange carrots, green veggie sticks, and white cheese. Have fun! Maybe do an all red and pink lunch for Valentine's Day: strawberries, raspberry jam heart sandwich, red pepper sticks, apple hearts, beet chips, and red grapes. The possibilities are endless!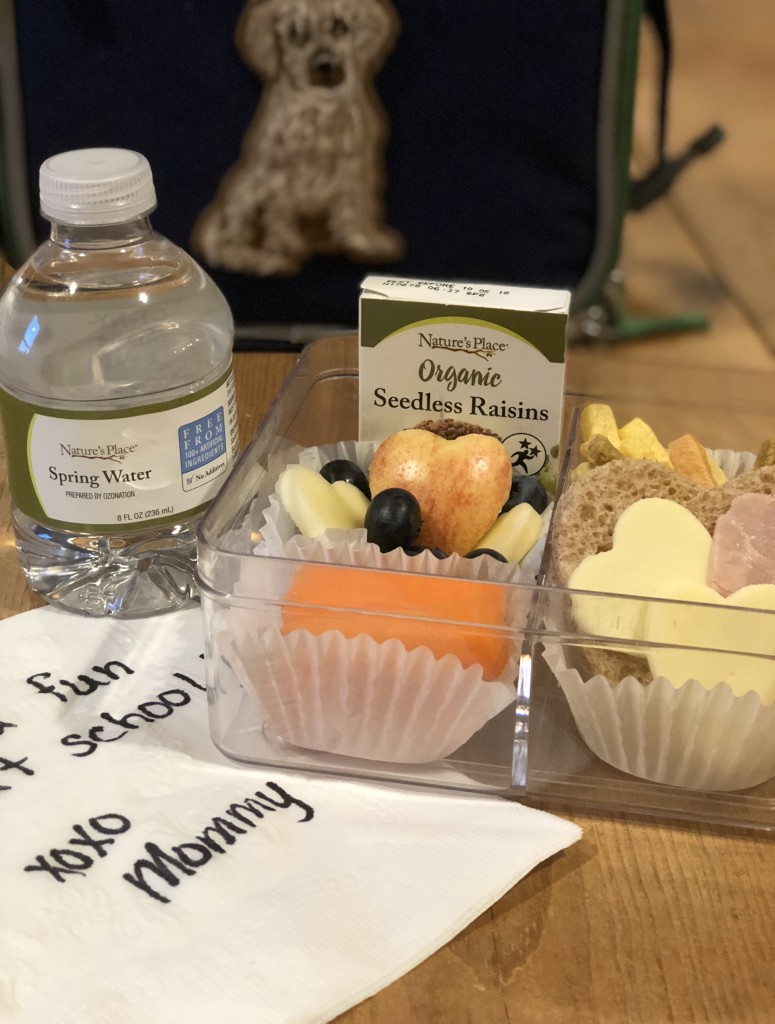 This lunchbox refresh is perfect for both the kids and mom! The kiddos will be surprised when they open their lunch the next day and I'm pretty sure nothing is going to be coming home at the end of the school day. And mom saved money with My Hannaford Rewards. There is also no tiered pricing with this program, so Hannaford is still offering their low prices to everyone not just those who have the app or are using the program. Hannaford wanted to show their appreciation to shoppers by offering the My Hannaford Rewards program. So be sure sign up at Hannaford.com or visit your local Hannaford and start saving with ongoing personalized coupons, the ability to earn 2% rewards and your special offers for free groceries upon sign up.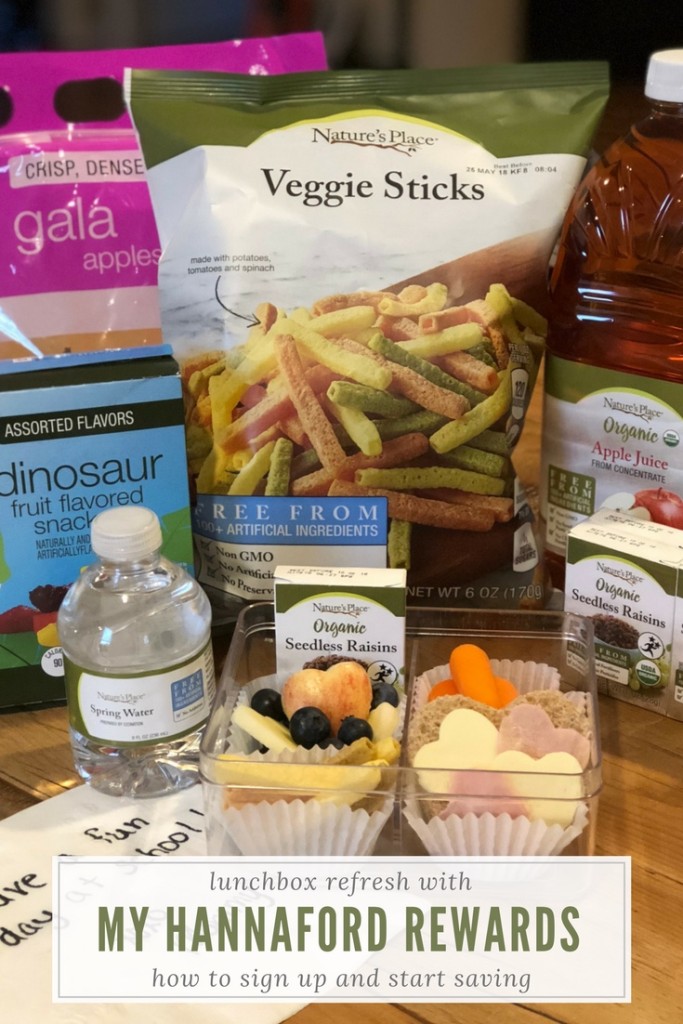 With Love, Jennifer
This post was brought to you by Hannaford.