Carter and I were recently in the mood for some salted caramel sauce to dip our pretzels and apples in. Well I really wasn't in the mood to pull out my candy thermometer and supplies to make my usual stovetop version…plus I knew I was asking for trouble trying to make caramel sauce while keeping two boys alive (yes, it was one of those days) so I decided to search Pinterest for a microwave salted caramel sauce recipe. Quick side note, it is amazing how many recipes you can make in a microwave! Anyways, every recipe I found had corn syrup, and quite honestly that is not staple I keep in my pantry. I usually substitute honey (using the same amount as I would corn syrup) so figured I would give it a try with this recipe. The results were spectacular!
You will definitely want to use a 4 cup measuring cup. The recipes I found showed the sauce being made in a 2 cup measuring cup. But my sugar/water mixture started bubbling up and over around the 2 minute mark. I had to carefully remove the measuring cup from the microwave and clean everything up before proceeding. I didn't loose much as I caught it just in time but I haven't had this problem since switching to a 4 cupper!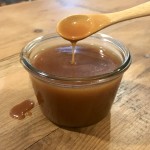 Microwave Salted Caramel Sauce (with honey)
Ingredients
1

cup

sugar

2

TBSP

honey

2

TBSP

water

1/2

cup

heavy cream

slightly warmed

1

tsp

vanilla extract

1

TBSP

butter

1/2

tsp

sea salt

(such as Fleur de Sel)
Instructions
In your microwave safe 4 cup glass measuring cup, whisk together the sugar, honey and water. Microwave on high for 5-6 minutes. You'll want to watch it carefully...watch to make sure it doesn't bubble up and over (you shouldn't have this problem in the 4 cup measuring cup) but also that it doesn't overcook. You want the bubbling sugar to turn into a light golden color. Any darker and your sauce will be bitter.

Once the bubbling sugar is a light golden color stop your microwave and open your microwave door. Let the sugar mixture sit untouched for another 5 minutes. It is crazy but as it sits it will turn to a dark amber color!

Once it turns deep amber, CAREFULLY remove the measuring cup from the microwave. Get your whisk ready and slowly pour in your warm cream while whisking continually. The mixture will bubble like crazy so keep whisking! Add your vanilla and butter and whisk until its all melted together and combined. Add your sea salt to taste!

Store in a glass jar in the fridge for up to 2 weeks. You can use it cold for dipping or warm up again to drizzle over ice cream. Also delicious in coffee!
---
Resources:
Measuring Cup: Anchor Hocking Measuring Cup, 4 cup
Mini Wooden Spoon: Bambu Feeding Spoon
Glass Jar: Weck Canning Jars
Sea Salt: Fleur de Sel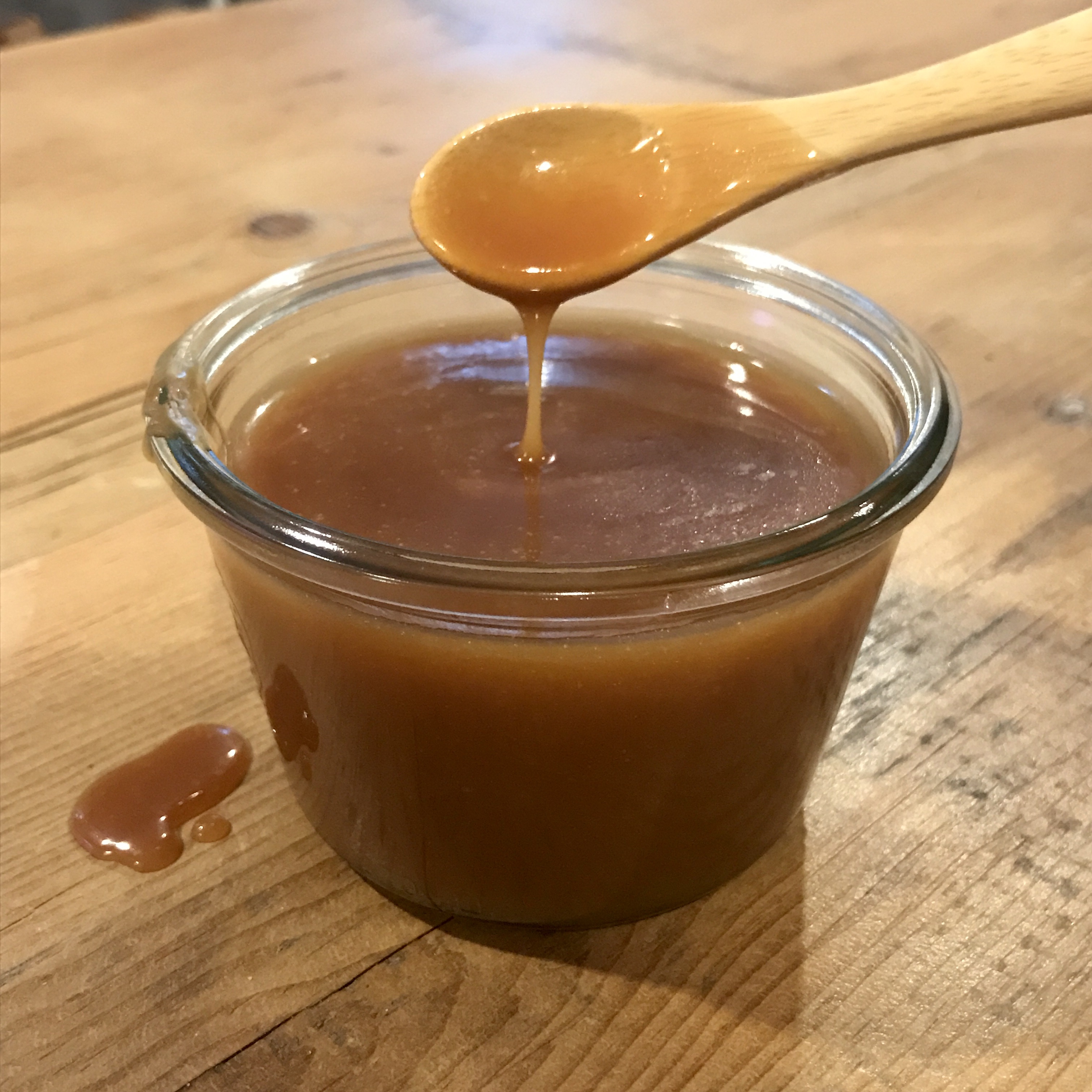 With Love, Jennifer
This post contains some affiliated links. However, I have not been paid to test this product nor was I given this product as a sample. I purchased this product for my own personal use and plan on giving honest feedback (whether good, bad or ugly) on the product(s) mentioned.