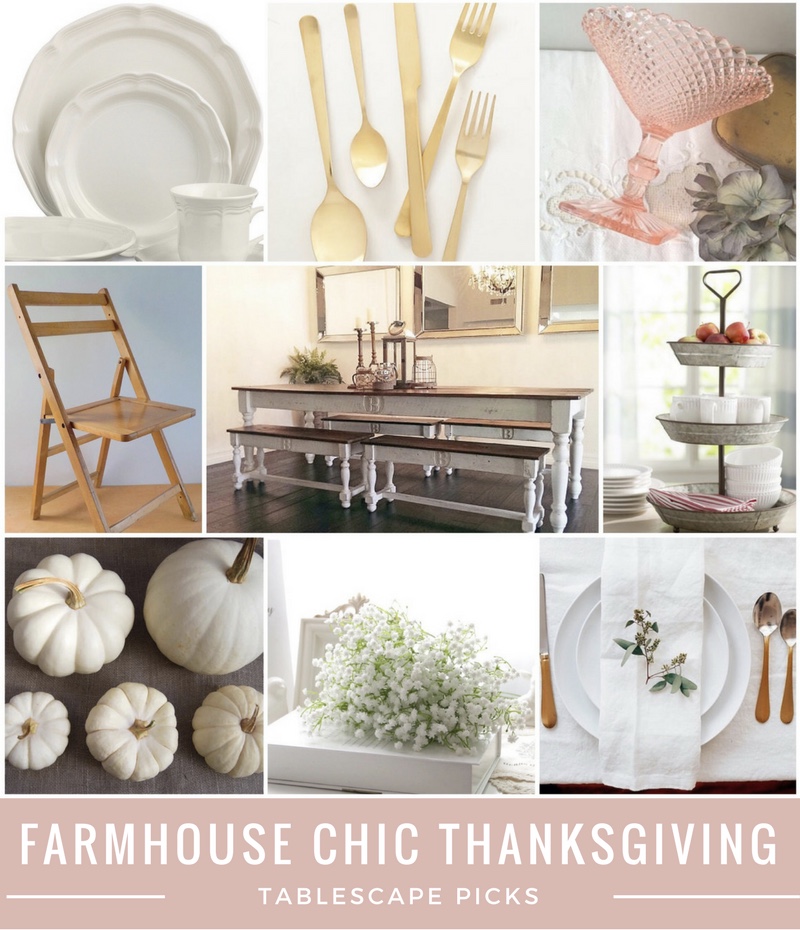 Can you believe it is November? Three more weeks from tomorrow and it is Thanksgiving. Whoa! Last year was my first year hosting Thanksgiving and my theme was Farmhouse Chic. Basically it was all things white, pink depression glass and soft linen colors…with a little gold thrown in!
1. French Countryside Mikasa Dinnerware – I've actually owned this place setting for 11 years and use it everyday. But it holds up so well that I use it for holidays too!
2. Gold Flatware – Here is the bling in my Farmhouse Chic! I invested in my set last thanksgiving and have already used it for numerous events!
3. Miss America Pink Depression Glass – I've been collecting pink depression glass for over 20 years now (yes, I was just a little girl). I collect it but I also use it as accent pieces for every holiday I host.
4. Vintage Wooden Folding Chairs – My husband bought me vintage folding chairs a few years ago for my Valentine's gift. I've slowly found more to the set and now have 12 wooden folding chairs. We actually use 6 of them at our table year round!
5. Monogrammed Harvest Table – What's a farmhouse Thanksgiving without a farm table! And this one fills all my monogram dreams. We saved up for this exact one and enjoyed our first family Thanksgiving at it last year!
6. Galvanized Three Tier – I love my galvanized three tier! I decorate it for every season and it's perfect for either a Thanksgiving tablescape or for a coffee station!
7. White Pumpkins – What Thanksgiving table is complete without white pumpkins. Did you know you could order them online! Wish I had known that last year when the "great white pumpkin hunt" was on!
8. Baby's Breath – Harvest tables and white pumpkins call for simple flowers…that's why I always choose baby's breath for my simple arrangements. These silk blooms really do look like the real thing!
9. Linen Napkins – Last Thanksgiving I hand embroidered our family initial on all our linen napkins. It added the perfect touch to the table!
With Love, Jennifer
This post contains affiliated links.