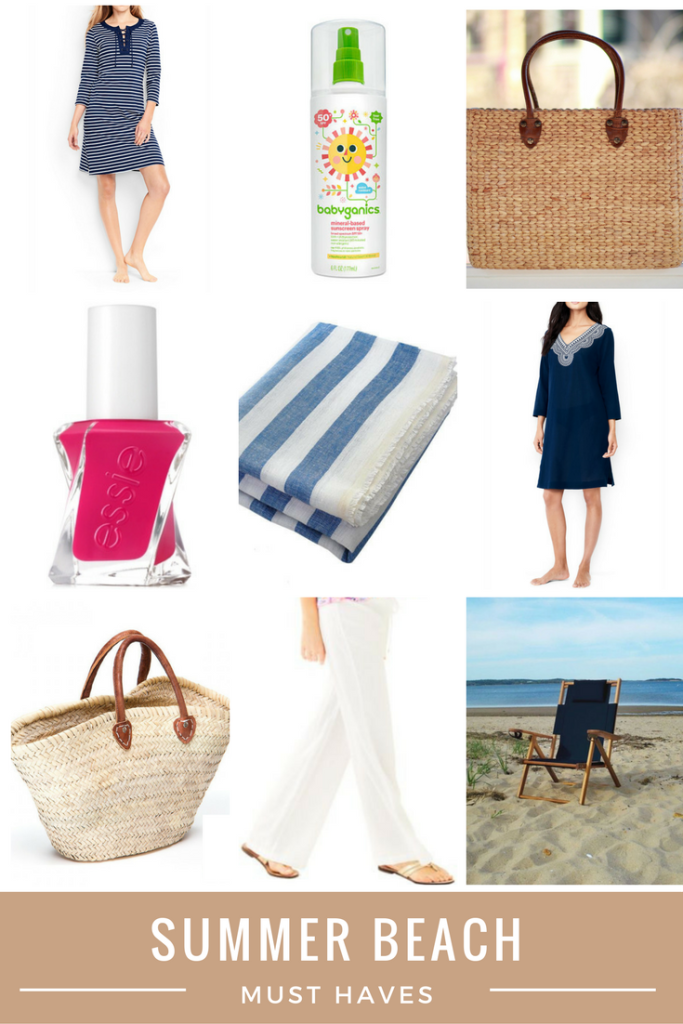 So, how many times have you been to the beach this summer? Not enough over here! I know the boys and I will be going much more in the month of August and soaking up the last days of summer! I'm rounding up my favorite Summer Beach Must Haves. The cover up, Deck Towel, sunscreen & linen beach pants stay in my basket beach tote all summer…that way it's an easy grab and go when heading out the door!
1. Lands End Stripe Cover Up – I bought this cover up this summer and love how it looks more like a dress than a cover up!
2. Babyganics Sunscreen Spray SPF 50 – This is the only thing I use on my family! Hunter has super sensitive skin and I'm sure would burn within minutes. This sunscreen has lasted for over 2 hours of beach play!
3. Rectangle Basket Beach Tote – My mom has this beach tote and absolutely loves it!
4. Essie Gel Color (The It-Factor) – I use this gel color on my toes and it seriously lasts even in the sand and water! I had it on my toes for over a week while we were on vacation at the beach and didn't notice my first chip until we got home.
5. Deck Towel Alfons Stripe Beach Towel - Growing up we would always have picnic lunches on the beach. We are now able to continue that tradition thanks to Deck Towel! Their Beach Towels are the perfect size for the family to all sit on at the beach, but fold up to the size of a magazine for storing in my beach bag! Plus I love anything made out of linen AND made in the USA!
6. Lands End Navy Embroidered Cover Up – I have this from a few years back (a little different pattern) and it is seriously my go to cover up. I always pair it with my linen beach pants (see #8) for extra sun protection.
7. Woven Basket Beach Tote – This is the beach tote style I have. You can seriously fit EVERYTHING into this tote!
8. Lily Pulitzer Linen Beach Pants – A must! There is nothing better than saltwater air and linen beach pants. I wear them all the time at the beach! The linen allows you to stay cool but adds some sun protection when you've been outside for too long.
9. Cape Cod Beach Chair – I purchased these about 4 years ago as a joint Christmas gift for my husband and I. 4 summers later and they are still as beautiful as the day I bought them! And they are so comfortable with the cushion behind your head, extra wide arm rests, and drink holder.
SHOP THIS POST
With Love, Jennifer
This post contains affiliated links. I received an Alfons Stripe Beach Towel from Deck Towel.