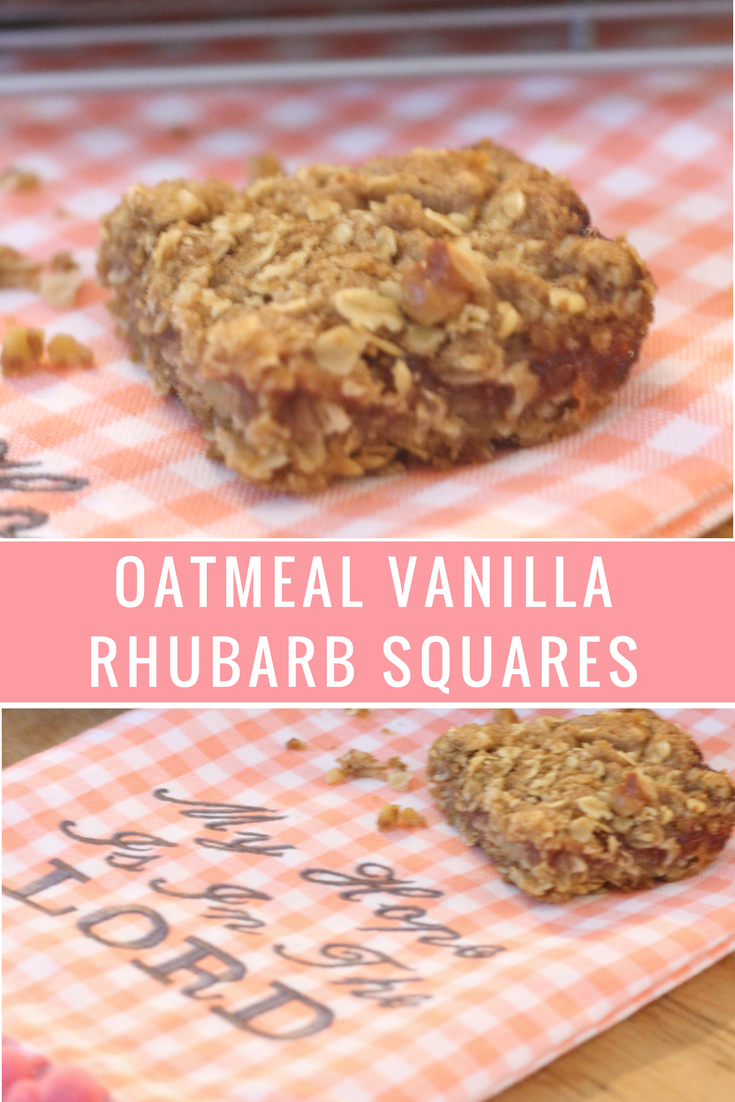 Oh Rhubarb…that awkward fruit (is it a fruit? I'm actually not even sure) that awakens right after the last of the snow is melting. It comes back year after year, invading more and more garden space. No one really likes it raw (ok…unless you are my dad and youngest son…but you'll have to read to the end of this post for proof!) But something magical happens when you turn them into Oatmeal Vanilla Rhubarb Squares…just add a bunch of sugar, some vanilla, cook it on the stove top then spread between 2 layers of oatmeal & walnut goodness.

Next time you are at your local farmer's market (or if you are fortunate enough to have a neighbor or a relative with a patch of rhubarb be sure to ask them…chances are they have more than enough and will be happy to share!) pick up a bunch of rhubarb. And I'm guessing you probably already have the rest of the basic ingredients in your pantry. This recipe does call for vanilla bean paste. But half of a vanilla bean or even just vanilla extract will substitute just fine.

Be sure to serve these Oatmeal Vanilla Rhubarb Squares warm and with vanilla ice cream. And how adorable is this embroidered tea towel by Ann and Anthony! Check out her entire adorable collection of Tea Towels, Napkins & Aprons at www.annandanthony.com.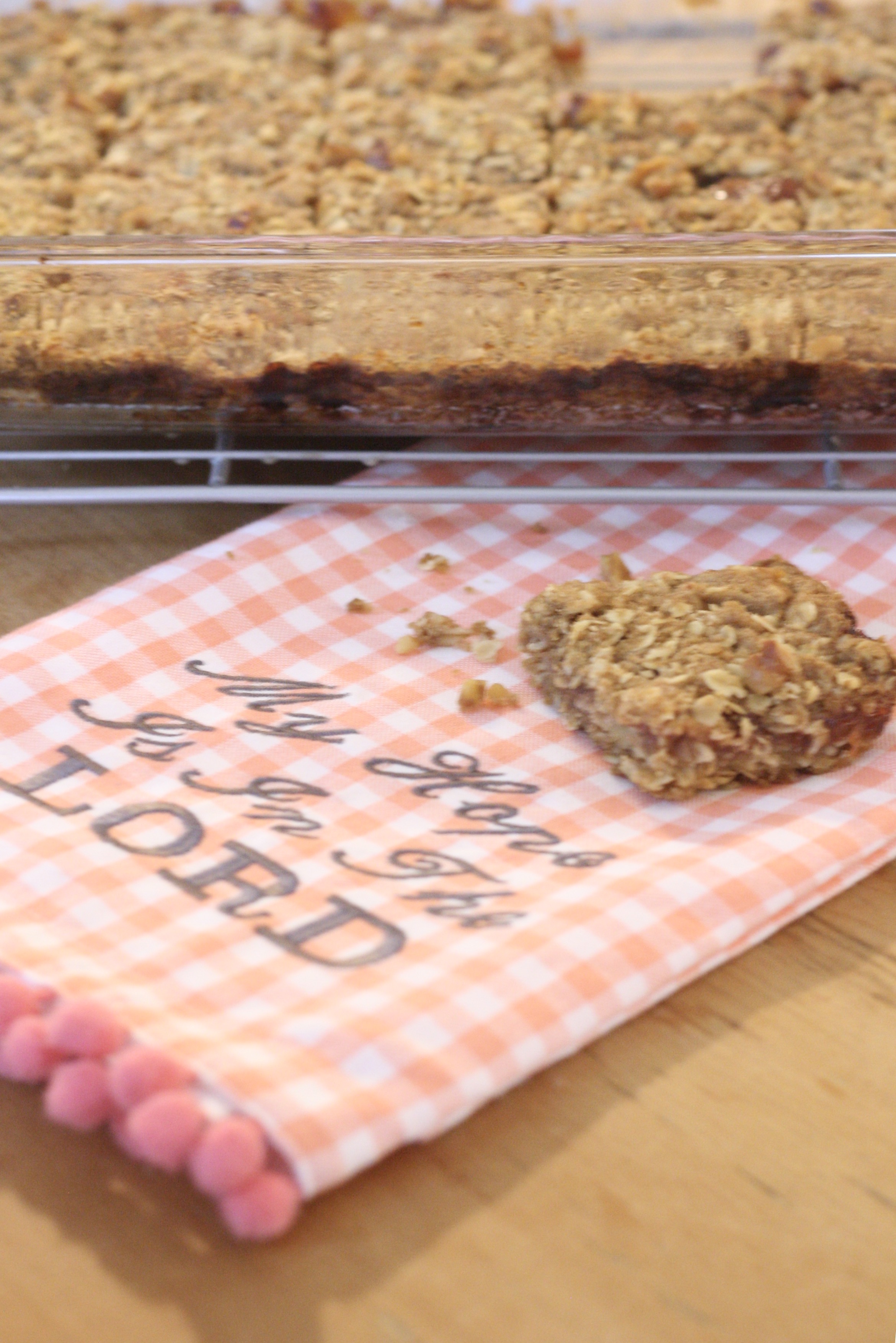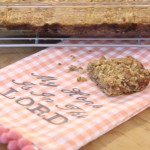 Oatmeal Vanilla Rhubarb Squares
Oatmeal Vanilla Rhubarb Squares recipe - sweet vanilla scented rhubarb sauce between two layers of crispy oatmeal mixed with walnuts - From the Family with Love
Ingredients
For the rhubarb filling:
2

cups

rhubarb, chopped

1

tsp

vanilla bean paste

1 1/2

cups

sugar

1

TBSP

corn starch

1

drop

red food coloring
For the oatmeal crust:
1 1/2

cups

flour

1 1/2

cups

oatmeal

1

cup

brown sugar

1/2

tsp

cinnamon

1/4

tsp

salt

3/4

cup

butter

1/4

cup

walnuts, chopped
Instructions
For the rhubarb sauce:
In a saucepan set over medium high heat, bring the chopped rhubarb, 1 1/2 cups sugar and vanilla bean paste to a boil. If you don't have vanilla bean paste you can also use 1/2 a split vanilla bean or vanilla extract. Once the rhubarb has softened, mash using a potato masher. Add the corn starch and boil for a minute longer until thickened. Add a drop of red food coloring, stir and set aside.
For the bars:
Preheat oven to 375. Mix together the flour, oats, brown sugar, cinnamon and salt. Using a pasty blender, cut in the butter. Once the mixture resembles coarse meal, stir in the walnuts.


Grease a 9 x 13 glass pan and press 1/2 of the oatmeal crumb mixture into the pan. Spread the rhubarb sauce over the crust base. Top with the rest of the oatmeal crumb mixture and press well. At this point you can even sprinkle with some extra chopped walnuts if you'd like!

Bake for 25-30 minutes or until golden brown. Let cool slightly before cutting into. Serve with vanilla ice cream.
---
Products I love: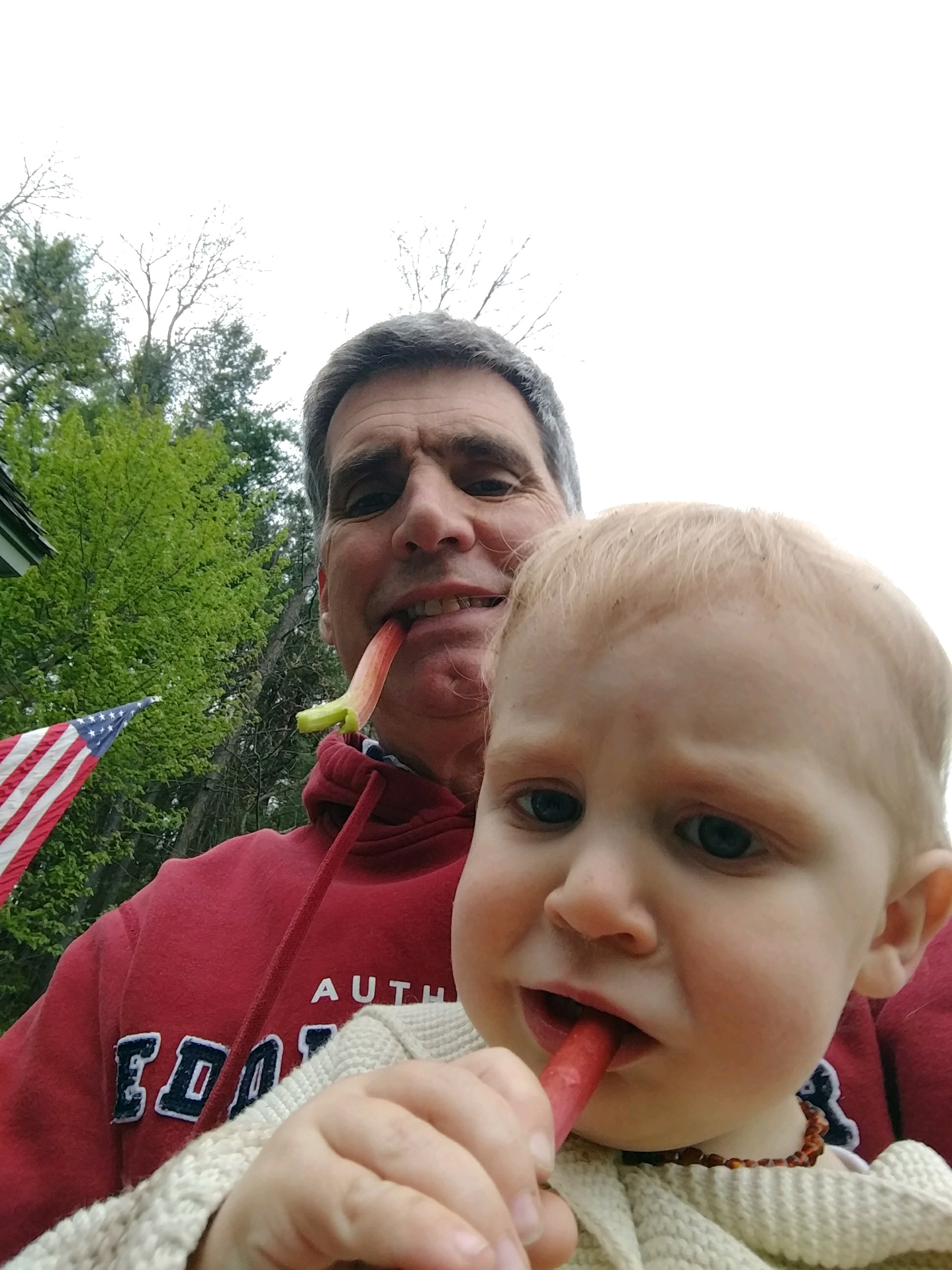 With Love & Happy Baking, Jennifer
This post contains some affiliated links. I also received the Tea Towel from Ann and Anthony as a gift.