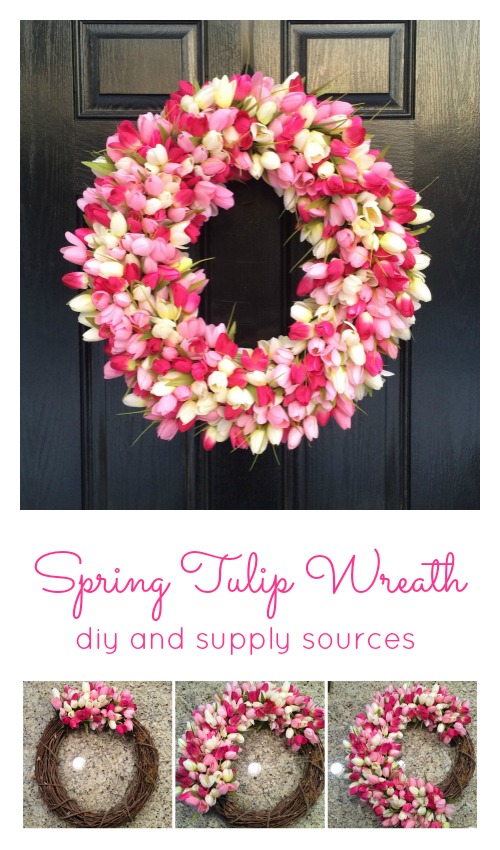 I finally got around to a project I've had pinned for years…a Spring Tulip Wreath diy! I'm so excited with how easy it was and honestly how quick it was to complete. I friend of mine on Facebook recently completed her own wreath and that ended up being the final bit of inspiration I needed!
My total wreath ended up costing me $29.65. Not bad for a 22″ oval wreath! I actually found my grapevine wreath at my local Goodwill for $1.99…and it ended up being the color of the week so final cost was $1!
Was so worth yanking out some hidious colorful flowers to save some money on the part of my wreath that would never been seen.
I forgot to take a picture of all my bunches of tulips prior to cutting them up. I purchased the Ashland Spring Bushes from Michaels. I chose a bright pink, medium pink and "white" (ends up being more ivory). But you should see the colors! Coral, lime, red, orange, yellow…possibilities are endless!
I used wire cutters to cut up the bunches into smaller stems of 3 tulip bunches. I got 7 mini bunches per large bunch I bought. Once I had everything cut up I was ready to assemble!
Now comes the fun part…tucking and gluing. I would tuck the stem of each little bunch into the grapevine wreath then apply a dab of hot glue to where I had tucked the stem. Literally continue to tuck and glue until you've covered the grapevine wreath.

The wreath I purchased from Goodwill had a pipe cleaner attached to the back so I could hang it on my door. I love this idea as it wasn't sharp and won't scratch up my door!
---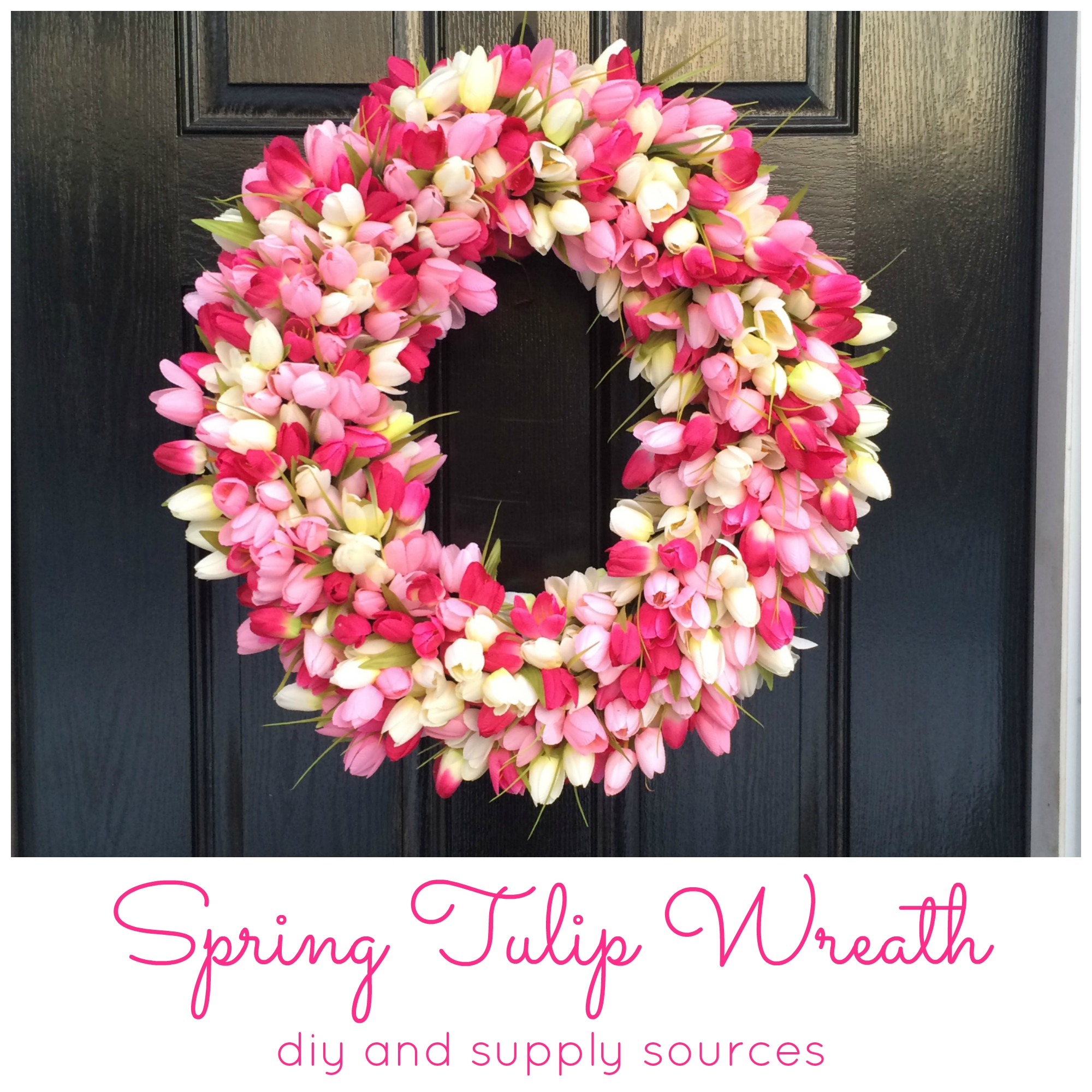 Supplies (for a 20″ oval wreath):
1 – 18″ Grapevine Wreath

(can use any shape!): $1 Goodwill
18 bunches of tulips (I purchased Ashland Spring Bushes from Michaels): $28.65 ($3.99/bunch with 50% off all flowers and an additional 20% off entire purchase)
Hot Glue Gun
Hot Glue Sticks
(I used about 9 or 10)
wire cutters
pipe cleaner to hang
What I did:
Cut the bunches from the store into individual stems. Each stem still had 3 tulips on them…some also had a leaf or two.
Tuck one of your stems into your grapvine wreath and apply a dot of hot glue to where the stem touches the grapevine wreath.
Continue tucking and gluing making sure you you vary the colors. I would take a step back every now and again to make sure I wasn't create a stripe of a certain color or too big of a patch of a certain color.
When complete take a look at your wreath and tweak where needed by adding remainder of bunches.
Turn it over and twist on a pipe cleaner to hang!


With Love, Jennifer
This post contains some affiliated links. However, I have not been paid to test this product nor was I given this product as a sample. I purchased this product for my own personal use and plan on giving honest feedback (whether good, bad or ugly) on the product(s) mentioned.